READ TIME: 8 MINUTES
Are Model Trains Expensive? I've been asked this question many times in my years as a Model Railroader, and in this brief article we are going to answer some of the basic questions about Model Railroading and Model Trains in general. If you are just a beginner in your journey of building a Model Railway, or returning to the hobby, the information below and on our website will help guide you in the right direction.
This site uses affiliate marketing links. I may earn commission on purchases made through links on this site at no additional cost to you as a consumer. For example, As an Amazon Associate, I earn from qualifying purchases made through this site if you click on a link and make a purchase. These earnings help to provide resources to make our site content better, up to date, and provide our users with a better experience. I appreciate your support, thank you.
ARE MODEL TRAINS EXPENSIVE?
While this question at first might seem like a legitimate one, we first have to ask ourselves what is a hobby, and what do we expect to gain from it? When you're first trying to decide if you want to enter the hobby of Model Railroading, or perhaps pick up where you left off, there are many skewed opinions out there that can influence your decision.
When such a question is answered by someone who has no direct knowledge of the wonderful hobby of Model Railroading, they attempt to answer it from a purely analytical point of view. Often times they will just scan the cost of various items and conclude that compared to what they see, and the cost of various individual components, in their eyes it is expensive. This leads to false assumptions by many beginning Model Railroaders and those returning to the hobby alike.
But when you ask yourself what the hobby of model Railroading is, and what do I expect to gain from it? you see thigs in a different light. Model Railroading, just like any other hobby, should be seen as a way to relax and unwind from a busy day, to share ideas with other Model Railroad enthusiasts, and generally just have fun.
This is no different than other hobbies such as fishing, biking, camping, or a whole myriad of other things. And when you engage in the hobby of Model Railroading and gain better skills and knowledge the many benefits you gain from it are countless. Here are but a few that come to mind:
YOU LEARN NEW SKILL SETS SUCH AS BASIC CARPENTRY, BASIC WIRING PRINCIPLES, BASIC ELECTONICS AND BASIC MINIATURE MODEL BUILDING TECHNIQUES.
YOU LEARN ARTISTIC SKILLS AND TECHNIQUES SUCH AS COLOR COMBINATIONS, PERSPECTIVE AND SCENE COMPOSURE.
YOU LEARN TO BE MORE OBSERVANT OF THE WORLD AROUND YOU AS YOU RE-CREATE IN MINIATURE WHAT YOU SEE.
YOU LEARN TO BE CREATIVE, INGENIOUS, AND RESOURCEFUL.
YOU GET TO CREATE AN EXTENSION OF YOUR CREATIVE EXPRESSION AND SHARE THIS WITH YOUR FAMILY AND OTHERS.
YOU DEVELOP A SENSE OF PRIDE IN YOUR WORK AND YOURSELF.
YOU ARE ABLE TO SHARE YOUR ACCOMPLISHMENTS WITH YOUR FRIENDS AND FAMILY, GIVING YOU FULLFILMENT AND JOY.
YOU DEVELOP A LONG-LASTING BOND WITH A CHILD OR PARENT BY SHARING THE HOBBY TOGETHER OR INTRODUCING THEM TO IT.
YOU GAIN NEW FRIENDS WITH SIMILAR INTERESTS IN MODEL RAILROADING.
So, as you can see above, the hobby of Model Railroading offers a wealth of opportunities for lifelong enjoyment. And that, is after all, what a hobby's true value really is. So, when you ask the question of "Is Model Railroading too expensive a hobby?" then consider the above in your answer.
For myself, and countless others in this hobby, the answer is a resounding 'No' For the true value of the cost and time put into the hobby of Model Railroading is worth every dollar ten thousand times over with the knowledge and bonding it has brought us. Just imagine for a moment, if you will, the look on your grandchild's, fiends or families' faces when you show them scenes like the ones below, all of which the techniques used we will be sharing with you in future articles. Click on the image to view full size.

HOW MUCH DOES IT COST TO START A MODEL RAILROAD?
So now we're on to our next question about Model Railroading heard and asked so frequently: "How much does it cost to start a Model Railroad?" That is a purely objective question and one that can't really be based on one hard rule. It all depends on your aspirations and goals when starting out in the hobby of Model Railroading, and anyone who gives you a hard fast dollar amount is purely speculating at best.
My advice is to look into some of the basic oval type sets if you are considering buying a set for a younger person, or just for yourself if you have no experience. You can go check out our article Model Railroading For The Beginner when you're done here to look at some links to the various scales. Most sets range in price from $200 up to around $300.
You may be asking, "Why are Model Train Sets so expensive?" The answer to that is because these are highly precision exact miniature re-productions of their real sized trains. The details on some are so precise that often times it can be difficult even for a seasoned Model Railroader like myself to tell the difference between them when viewed in photographs.
But despite their seemingly high price, they all can be expanded upon later once you decide on other factors such as space, design, theme, and other considerations. We will be posting articles aimed at helping in the Planning stages, so keep checking back.
A suitable dedicated location is desirable, but not necessary. You can place your new set up on a folding table, a medium sized desk, or on a temporary platform supported by sawhorses. These options will range from free (items you already own and are not using) to maybe $75-$200 dollars depending how resourceful you are.
We have a fantastic in-depth article on HOW TO BUILD AFFORDABLE MODEL RAILROAD BENCHWORK-OPEN GRID METHOD for a little over $100. I would not be tempted to put them on the floor however, since dust and hairs will get into the small moving parts and cause problems. Remember, these are highly precision built models with intricate mechanical and electrical parts, not toys.
So, all in all you have an investment of roughly $500 to get an up and running Model Train Set, and from there you can add to that empire. Again, if you are ambitious and have aspirations to start out big, then obviously the price will go up. But be careful of falling into that temptation until you have done your planning and research. Here at Model Railway Techiques.com we will assist you with all of the information and resources you need to make a wise decision. Our advice is to start small and slow. Afterall, it is a hobby, not a race to the finish line.
BELOW ARE A FEW IMAGES OF THE LAST MODEL RAILROAD I BUILT. IT TOOK ABOUT 3 YEARS TO GET TO THAT POINT WITH MY 4O YEARS KNOWLEDGE IN THE HOBBY.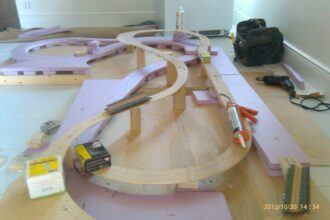 HOW MUCH DOES IT COST TO BUILD A COMPLETE MODEL RAILROAD?
This is another one of those questions always asked, and again, it all depends. You see, there are so many variables involved in this hobby that ultimately determine the amount of money spent on it. Some Model Railroaders' opt for the most expensive equipment money can buy, others, like myself, prefer to approach the hobby from a more budget friendly perspective.
I read just a few days ago on one site that a gentleman figured out that he spent about $150-$200 per square foot building his Model Railroad when he factored in all the materials and items he bought, not including the actual train models. I was both shocked and offended by that. That would be about $5,000 for a layout on a 4×8 foot piece of plywood! No wonder people are scared away from the hobby with statements like that. Obviously that gentleman has deep pockets and mostly buys everything needed off the shelf.
By comparison, I would say I have about half of that invested in my current layout of 13×3 feet. That is over the course of 5 years construction, so investment wise $500 year for materials.
My secret? use every day common products that are not marked up in price to fit a specific hobby niche. Using free items you can collect or re-purpose, you can build amazing scenery like the ones in the pictures with my photo credit attached. I do buy products that obviously I can't make myself like the trains, track, tools etc. but those are over the course of time, since the actual construction goes in phases.
If I had to put a total monetary value on the materials including the trains that fill my Model Railroad, it would be in the neighborhood of $7,000. That's an average of a little more than $100 a month. Like I said earlier, it's the enjoyment you get out of the hobby of Model Railroading, not how quickly you finish a layout.
As a quick example, in the very near future we will be sharing how to make trees like the ones below for literally next to nothing compared to the ones you can buy. And their realism far exceeds those of mass-produced items. Click on the image to view full size.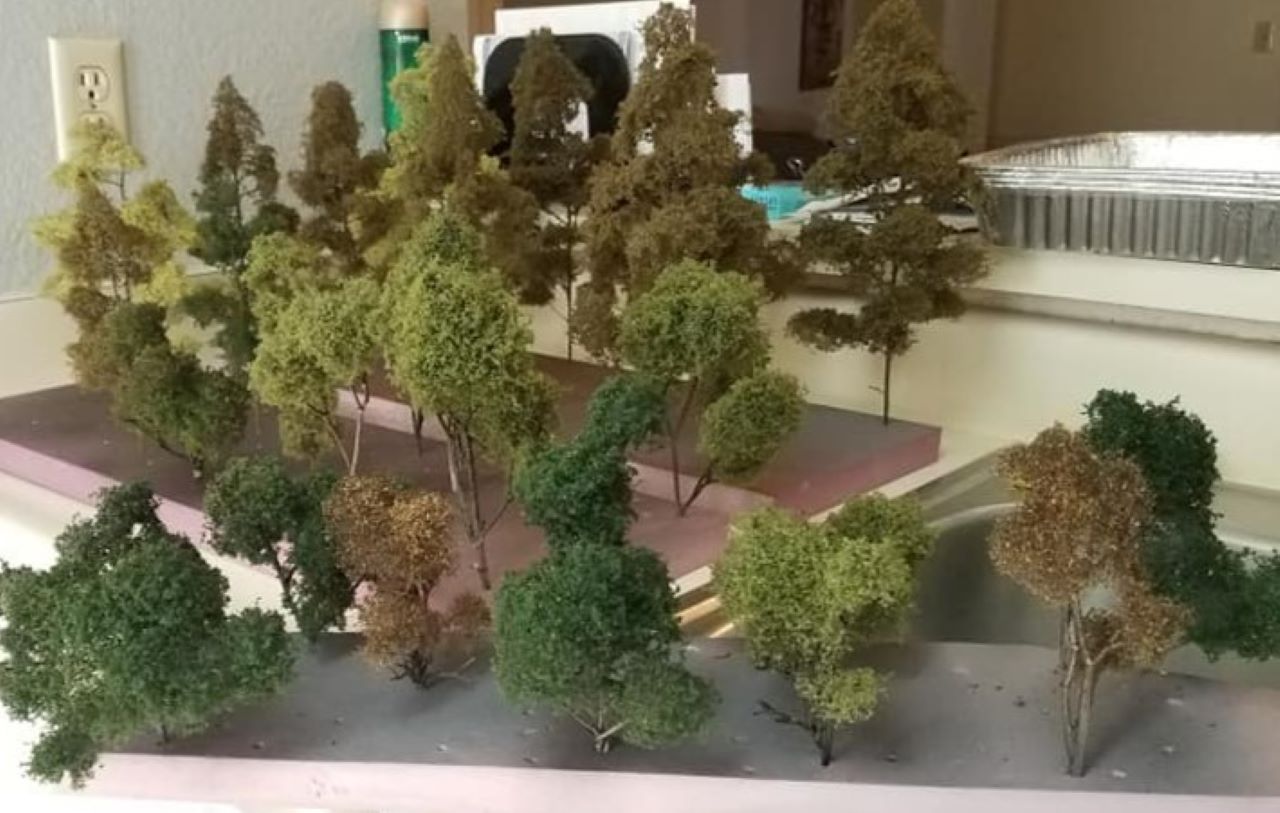 It's methods and ideas like these that we hope to bring to our site and share with all the Model Railroaders' that visit. Model Railroading doesn't have to be the expensive hobby everyone thinks it is. With a creative mind that is fostered through ongoing successes, more creative ideas come about, and ultimately your Model Railroad will be unique among all others. Through this site our hopes are that others share their ideas also, in an effort to share collaboratively and further the great hobby of Model Railroading.
Here is a link to some suggested reading you may find helpful.
If you have any questions or comments regarding this article drop a comment down below and we'll respond back to you.
Also, please share and click the subscribe button in the bottom right corner to receive automatic updates of new posts. Your email is confidential and will NOT be shared or redistributed.
James, Model Railway Techniques.com
Last Updated on 3 months ago by James from Model Railway Techniques