WHY CHOOSE OUR BENCHWORK OVER OTHERS?
Why choose your Benchwork from Model Railway Techniques.com? For starters, we offer high quality Benchwork for your Model Railroad at affordable prices. This means you have more budget available for your Benchwork, or for other areas of your Model Railroad. We also offer a multitude of different sizes so you can design your Model Railroad to your own needs. All of our pricing is based on one simple tiered pricing concept. For more complex configurations or permanent custom layouts, we do offer Benchwork Design Services at a low modest fee. We also offer Complete Starter Table Kits, Fully Assembled T-Trak Modules and our EZ-Fold NTRAK Module Kits.
OUR PHILOSPHY
At Model Railway Techniques.com our philosophy is to provide Model Railroad enthusiasts with the techniques and knowledge to build affordable high quality Model Railroads for themselves. With that in mind, and the need to fill a void for affordable Model Railroad Benchwork, we decided to offer our line of quality Benchwork at truly affordable prices for everyone. We understand that not everyone has the knowledge nor desire to build Model Railroad Benchwork for themselves, and we want to provide our knowledge and skills to those people. Below you will find a list of benefits and features that you will only find in Model Railway Techniques.com's Benchwork.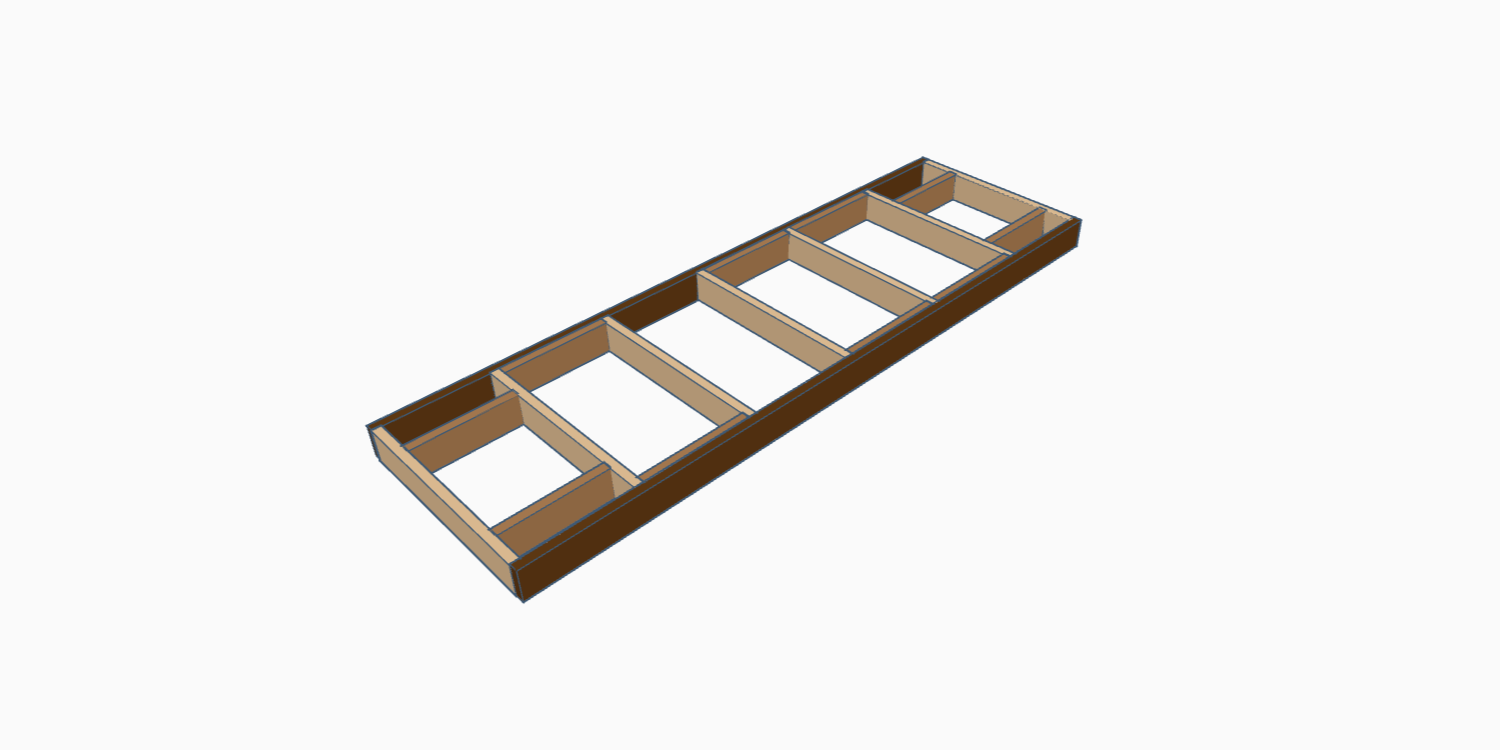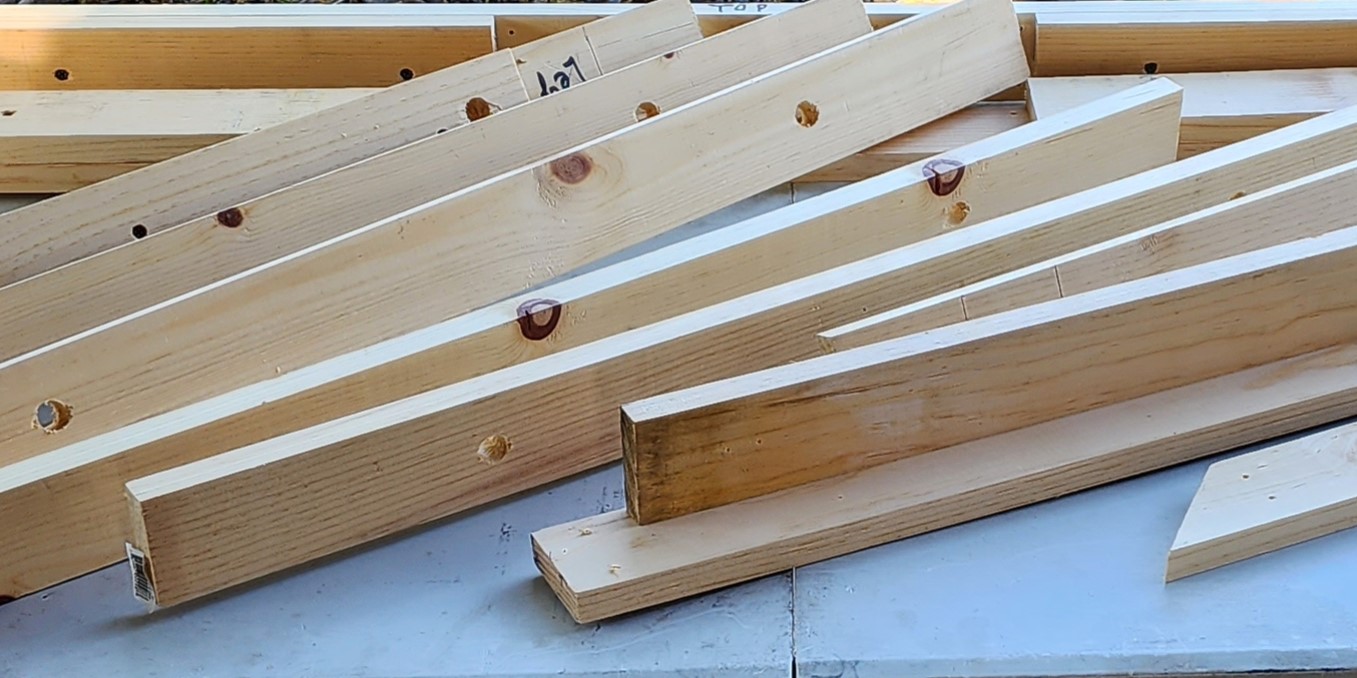 BENEFITS
AVAILABLE IN STANDARD LENGTHS UP TO 8 FEET WIDE, AND STANDARD WIDTHS UP TO 6 FEET WIDE
What does this mean for you? Longer main spans utilizing 3/4″ plywood increase overall strength by eliminating joints between sections. Less joints also mean fewer support legs, saving you even more money.
FAST ASSEMBLY TIME
Since our one-piece design sizes are larger, the need for bolted connections is eliminated, all sections assemble quickly and easily with the provided fasteners and pre-drilled pilot holes. The only tool needed for assembly is a power drill (recommended) and the supplied driver.
Our exclusive pre-installed pressure block assembly method eliminates the need for measuring and laying out the cross pieces; simply hold the cross piece tight to the pressure block, install two fasteners using the pre-drilled pilot hole, and you're done.
Multiple sections, if needed, assemble to each other utilizing the same fasteners.
LIGHTER OVERALL ASSEMBLIES
Since we offer larger one-piece size options, our assemblies utilize less materials and thus offer a weight savings. As an example, our typical 3-foot by 8-foot section weighs less than 20 pounds, and with four 48-inch leg assemblies weighs less than 35 pounds.
FEWER LAYOUT SUPPORT LEGS NEEDED
Our Benchwork is made in longer one-piece assemblies so fewer support legs are needed. Using our Inboard Leg Placing Design, a typical three, four, five, or six-foot wide sections up to eight feet long only require four legs for support. This saves you time and cost, and also provides more unobstructed area under your layout for wiring activities or storage. With our optional Staggered Joint Construction for lengths over eight feet, only four legs are needed without sacrificing strength for layouts up to twelve feet in length.
COMPLETE FLEXIBILITY IN YOUR LAYOUT DESIGN AND MEASUREMENTS
With our unique tiered pricing structure, you are free to design your Model Railroad to your exact dimensions. No more trying to make pre-made modules fit or paying higher for custom Benchwork. Simply send us the measurements you want, and we will provide it at the price shown on our Benchwork Pricing Plan.
CONNECT MULTIPLE ASSEMBLIES TOGETHER TO CREATE ANY LAYOUT SHAPE YOU WANT
With our truly custom sized kits available in any size range you need, creating a custom shaped plan is easier than ever. Visit our Layout Shapes page for some ideas and examples.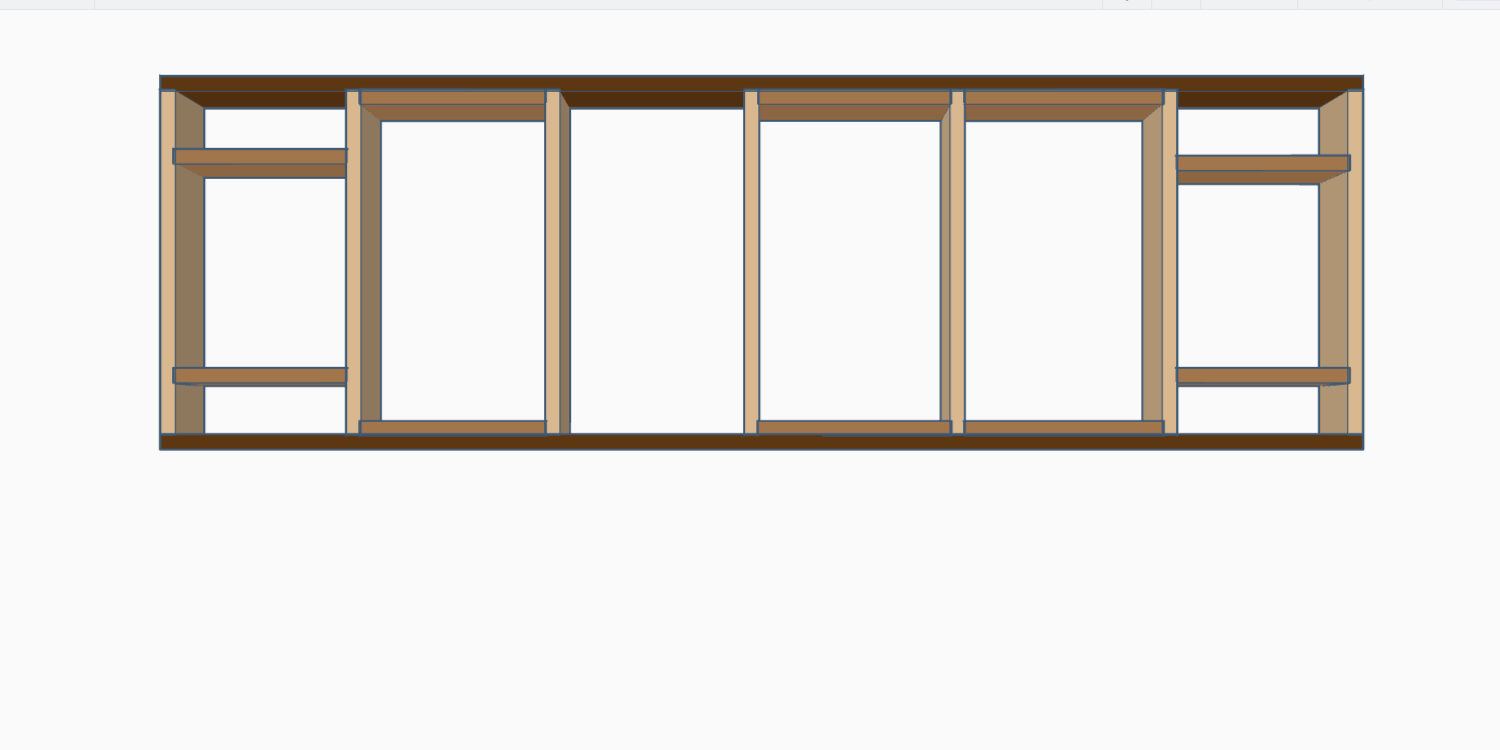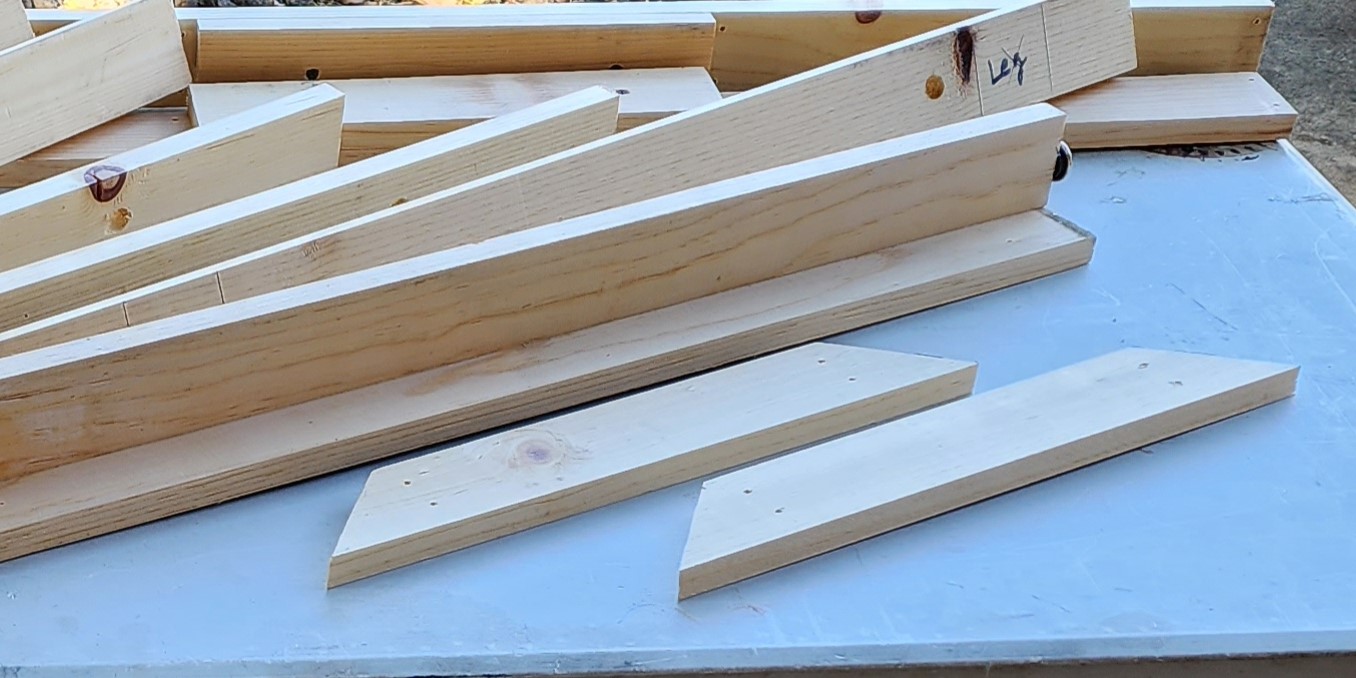 FEATURES
HIGH QUALITY KILN DRIED 1X3 OR 1X4 LUMBER DEPENDING ON SIZE
We don't use unnecessarily oversized lumber as a selling point. With over 40 years of experience in both the hobby and as a framing contractor, we understand the loads on the lumber and pass these savings on to you.
3/4″ THICK PLYWOOD LONG SIDE RUNNERS
Using 3/4″ plywood for the long sides assures that your Model Railroad Benchwork is straight and level, and also adds to the strength.
MAXIMUM SPACING OF CROSS PIECES IS 16″ OR LESS ON CENTER, STANDARD
Others offer 18″ or 24″ on center. With tighter spacing of 16″ or less, we offer considerably more support and strength for your surface of choice at very little cost increase to us. This benefits you by allowing thinner plywood if that is your choice of covering, better support for foam board products, and decreased spacing of riser supports. All of which save you money.
PRE-DRILLED 5/8″ HOLES IN CROSS PIECES FOR WIRING, STANDARD
Keep your wiring safely tucked away at no additional cost to you. We provide two rows of holes for widths between 18″ and 24″ and three rows of holes for widths between 36″ and 48″. Widths of 60″ and 70″ have four rows.
PRE-DRILLED PILOT HOLES FOR FASTENERS, STANDARD
No guess work, no frustrations. Our pre-drilled pilot holes make assembly a snap.
EXCLUSIVE PRESSURE BLOCK ASSEMBLY METHOD, STANDARD
With this method all marking by you is eliminated, simply hold the cross piece tight to the pressure block and install the fasteners. A complete three-foot by eight-foot grid can be assembled in a matter of minutes.
1X3 PRE-ASSEMBLED L-GIRDER LEGS, STANDARD
We provide pre-assembled L-girder style legs for strength and stability far exceeding simple H-Leg designs at no additional cost to you. Our Inboard Leg Placing Design also locates the legs in from the outer edges of the benchwork to prevent accidental kicking.
TWO 45-DEGREE BRACES FOR EACH LEG ASSEMBLY, STANDARD
In addition to keeping the legs firmly perpendicular to the layout grid, these braces also provide additional support for the platform itself, further strengthening the entire assembly.
ALL METAL LEG LEVELERS AND INSERTS INSTALLED, STANDARD
We use high quality threaded steel inserts and steel leveling adjusters and install these for you. Just one less step you have to do yourself at no additional cost to you.
ALL PARTS CLEARLY LABELED FOR CORRECT ORIENTATION
Every piece will be clearly labeled for correct orientation during the assembly process eliminating any guess work on your part.
INCLUDES ALL HARDWARE AND DETAILED, ILLUSTRATED INSTRUCTIONS
Every benchwork kit we sell comes with all the necessary hardware plus extras for a quick assembly. Our detailed, illustrated assembly instructions are clear and concise, and are written with the beginner in mind.
When you compare our prices with the features and benefits listed above, you can see we provide truly affordable Model Railroad Benchwork. For more information see our Benchwork FAQ page or send us an email to the address at the bottom of the page.
EXTRAS AND OPTIONS
FULLY ASSEMBLED BENCHWORK SECTIONS FOR LOCAL PICKUP
Save on shipping costs. Our Benchwork Kits are available for local pickup in California. Sections can be fully assembled for you also, with an additional charge of 30% of your order.
DIAGONAL INSIDE CORNER PIECES
Used as support for your inside curved fascia. Price is based on actual lineal footage of material only.
CUSTOM RISER LENGTHS TO MATCH YOUR GRADE
Custom length risers to match the specific on center spacing of your chosen layout size. Price is based on actual lineal footage of material. You must provide a scaled track plan and specify the grade in percent.
ADDITIONAL CROSS PIECES
Extra cross pieces as specified by you, or as required for riser supports on curves. Price is based on actual lineal footage of material only.
CUSTOM DROP SECTIONS
For special below layout scenery elements. Please email us for specific pricing based on your provided dimensions.
SPECIAL STAGGERED JOINT CONSTRUCTION FOR LONGER SECTIONS
For layouts over 8 feet in length requiring the minimum number of leg supports. Recommended for permanent layouts only. Ideal for free standing rectangular style layouts up to 12 feet in length using only four support legs, or specialty shaped layouts to eliminate legs and maximize under layout space. The end legs are moved further inward and longer diagonal leg braces support cantilevered sections. See our Staggered Joint Construction page for examples. Priced at $20.00
BENCHWORK DESIGN SERVICES
If you are planning a permanent layout, or a more complex configuration utilizing multiple different size sections, we offer our Benchwork Design Services to assist you in coming up with the most cost-efficient combination of sizes to suit your needs. Utilizing our special Staggered Joint Construction method, we can maximize the strength of your Model Railroad Layout with the fewest support legs needed and also provide recommendations on module sizes and configuration of the final layout. For more information on these services, please visit our Benchwork Design Services page.
For questions, email us at benchworksupport@modelrailwaytechniques.com and we will gladly assist you.
LINKS:
Fully Assembled T-Trak Modules
Complete Starter Table Benchwork Kits
California Sellers Permit Number 217902880 – 00001
Copyright 2023 Model Railway Techniques All Rights Reserved
Last Updated on 2 months ago by James from Model Railway Techniques