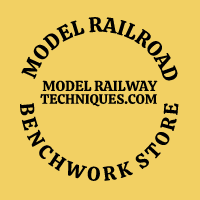 Browse our huge collection of Model Railroad Benchwork Products below, or enter your search query.
HO Scale T-TRAK Modules
The Model Railroad Benchwork Store is excited to announce are new line of HO Scale T-TRAK Module Kits.
Built to the same high-quality standards as all our products, our new HO Scale T-TRAK Module Kits are priced considerably lower than anyone else. Additionally, we offer our HO Scale T-TRAK Kits with our exclusive design 1" recessed foamular top, something you won't find with the other manufacturers.
Features Include:
3/4" Plywood on Long Sides for Stability
High Quality Kiln Dried Lumber
Leg levelers at All Four Corners, Installed
Cross Pieces Drilled for Wiring, Standard
1/4" Plywood Top, Standard
1" Recessed Foam top Construction Available as an Option
No Extra Hardware Purchase Required; Everything You Need is Included in Each Kit
Includes All Hardware and Detailed, Illustrated Instructions
15% Off Your Item(s) Subtotal! Use Promotion Code '15' at Checkout

Copyright 2023, Model Railway Techniques.com
Visit Model Railway Techniques Home for great How-To Articles, Photos, Resources, Tips, Techniques, and more for your Model Railroad
Questions? contact us at benchworksupport@modelrailwaytechniques.com
Copyright 2023 Model Railway Techniques All Rights Reserved
Last Updated on 1 month ago by James from Model Railway Techniques