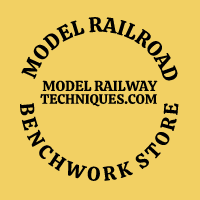 Browse our huge collection of Model Railroad Benchwork Products below, or enter your search query.
Leg Assemblies
1X3 PRE-ASSEMBLED L-GIRDER LEGS
Compliment your benchwork kits with our Leg Assemblies
We provide pre-assembled L-girder style legs for strength and stability far exceeding simple H-Leg designs at a lower cost to you. Our Inboard Leg Placing Design also locates the legs in from the outer edges of the benchwork to prevent accidental kicking. Features include:
TWO 45-DEGREE BRACES FOR EACH LEG ASSEMBLY, STANDARD
In addition to keeping the legs firmly perpendicular to the layout grid, these braces also provide additional support for the platform itself, further strengthening the entire assembly.
ALL METAL LEG LEVELERS AND INSERTS INSTALLED, STANDARD
We use high quality threaded steel inserts and steel leveling adjusters and install these for you. Just one less step you have to do yourself at no additional cost to you.
Available in any length from 30" to 60"
Visit Model Railway Techniques Home for great How-To Articles, Photos, Resources, Tips, Techniques, and more for your Model Railroad
Questions? contact us at benchworksupport@modelrailwaytechniques.com
Copyright 2023 Model Railway Techniques All Rights Reserved
Last Updated on 1 month ago by James from Model Railway Techniques