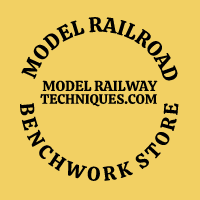 Browse our huge collection of Model Railroad Benchwork Products below, or enter your search query.
Foam or Plywood Top T-TRAK N Scale Module Kits
Recessed 1" Foam Top or 1/4" Plywood Top T-TRAK Module Kits from The Model Railroad Benchwork Store

Free Shipping on All of Our N Scale T-TRAK Products!

Each of our T-Trak Module Kits have the following features:
Made to exacting T-TRAK standards to ensure compatibility with other T-TRAK Modules.
Light weight construction: Single and Corner Modules weigh approximately 2 lbs. Double and End Cap Modules weigh approximately 4 lbs.
2-3/4″ Nominal Height per T-TRAK Standards, adjustable up to 4″+
Steel insert and leveling adjusters at all four corners already installed for you.
1/4″ high quality plywood veneer top with track guidelines for Kato Unitrack.
Optional 1" recessed foamular top with track guidelines for Kato Unitrack.
Triple and Quad Modules feature a center cross piece to reduce sagging, drilled for wiring.
All assembly hardware included with detailed illustrated instructions.
Assembly takes less than 30 minutes using a powered drill driver.
Each kit comes complete; there is no extra hardware required to purchase.
To view all of our Custom Benchwork Kits and services visit us at: BENCHWORK PRODUCTS – Model Railway Techniques
Visit Model Railway Techniques Home for great How-To Articles, Photos, Resources, Tips, Techniques, and more for your Model Railroad
Questions? contact us at benchworksupport@modelrailwaytechniques.com
Copyright 2023 Model Railway Techniques All Rights Reserved
Last Updated on 1 month ago by James from Model Railway Techniques